There's a lot of cool stuff on Bynder's product roadmap. Let's talk about it! 
I do appreciate the increased transparency around the product development this year, because I often have onboarding clients who want to know when the features they need will happen, but also because I just enjoy thinking about and using new features myself. 
Anyway the in process roadmap item I'm most hype for is the integrations with Google Drive, Box and Dropbox.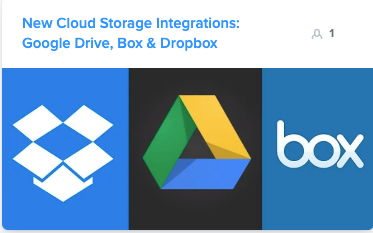 If an onboarding client doesn't already have another DAM, they almost always have Dropbox/Box/Drive and ask me if there's an easy way to migrate assets from all their myriad folders into the DAM. From what I hear the Drive integration will act like a hotfolder: if you put a supported file type in there, Bynder will upload it to the waiting room for approval.
There's a bunch of other integrations on the way too, Hootsuite, Stensul, Sprinklr, and Microsoft Office. At first I wasn't sure what you'd want to integrate with Office for, but building PowerPoints with DAM assets is very compelling. (Bynder is a Google shop so we use Sheets/Slides.) 
The candidate roadmap item that I want the most is the one that will allow you to duplicate a guide in Brand Guidelines. 
We already got duplicating sections and pages of a guide in previous development cycles, but being able to save a guide as a template and then copy it would be a huge time saver for things like translations, different regions, or even just guides across multiple brands. 
Have yourself a look at the roadmap, and let us know if you like what you see, what you're most excited about, or if you have a burning desire for something that's not on there.